FOD-Razor® Military Sweeper
Prevent Costly FOD Incidents at Your Military Air Field and Protect Your Military Aircraft.
The FOD-Razor® Military Sweeper is designed to be a rapid and effective debris collector for all types of air bases and military aviation facilities.
Light weight and designed for one person operation, the Razor Military Sweeper is an effective, efficient, and easily deployable solution to prevent Foreign Object Damage to your military aircraft.
It eliminates Foreign Object Debris (FOD) from all air operations areas including airfields, heliports, hangars, runways, landing strips, taxiways, aprons and more!
The FOD-Razor® sweeping system is available in different configurations to accommodate military air bases of any size and nature.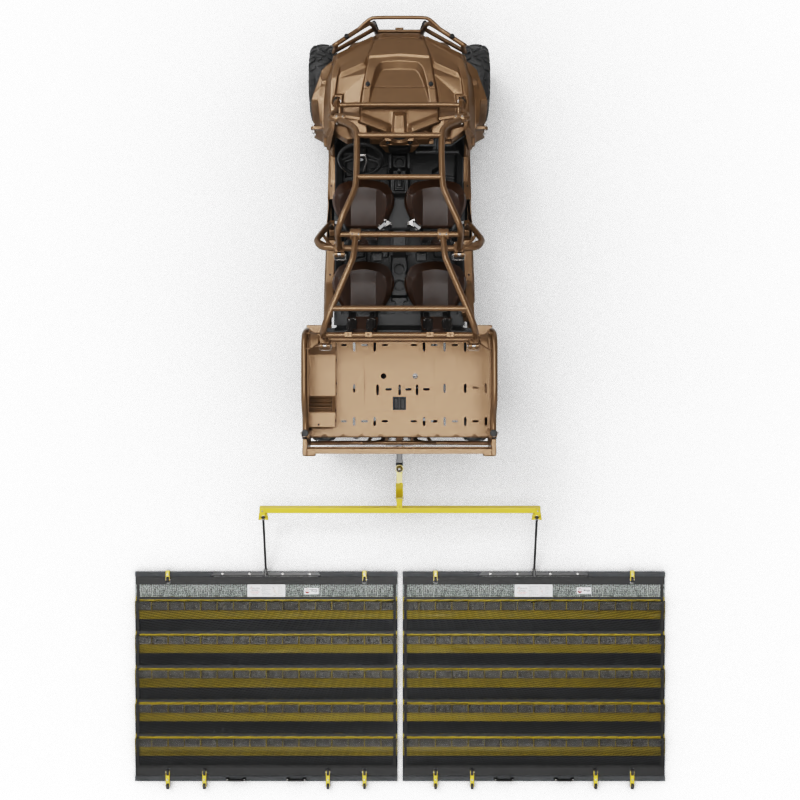 The FOD-Razor® (RZR-8) offers an 8 ft (2.4m) sweeping path and allows sharper turns to navigate relatively narrow surface areas.
This configuration is well suited for use around aircraft and other GSE (ground support equipment). Ideal for Rapid Response purposes.
The FOD-Razor® Duplex (RZR-DPLX) offers a 16 ft (4.8m) sweeping path, cutting driving time in half. An attached cross-bar assures that the two FOD sweeper mats tow in tandem, handling turns in a coordinated fashion.
You can also split up your RZR-DPLX and tow each FOD sweeper mat behind separate vehicles as a single assembly.
The FOD-Razor® Triplex (RZR-TRPLX) offers a 22 ft (6.7m) sweeping path. Our RZR-TRPLX hitches three sweeper mats in a triangular configuration with an approximate 6-inch overlap between the mats. to ensure that FOD does not escape your sweeping operation.
Like the RZR-DPLX, the RZR-TRPLX can be split into individual FOD-Razors®.
Made In The USA and Trusted World Wide
What you need to know:
FOD-Razor® Military Sweepers have a proven track record protecting FOD sensitive aircraft (including VTOL assets) in Military units around the world.
Ruggedly built with virtually no maintenance.
Fast sweeping up to 25 mph. Cover 1,000,000 sq. ft. per hour.
Easy to deploy, Easy to use, and Easy to empty.
Take Your FOD Prevention Program To The Next Level
Friction mat sweepers have the highest collection rate of any sweeping technology available, and our products are regularly deployed for foreign object damage prevention by US, NATO, Israeli, and other military air forces around the world.
The FOD-Razor® meets the Federal Aviation Administration Advisory Circular 150/5210-24 standard located in section 5.2 b. (1) and appendix B.1 a. (b).
Get Additional Information Now
For addition technical and operating information review our frequently asked questions.